Do you want to have an eco-friendly backyard? Try these green makeover tips in your outdoor spaces
Outdoor living areas are necessary in everyday life. Many households are surrounded with beautiful lawns and spaces, but they aren't actually livable. Many individuals strive for attractive house interiors but neglect the value of outdoor living areas.
Spending time outside has been shown to boost both mental and physical wellness. People who spend a good deal of time outside are more likely to be happy and healthy throughout their lives. Also, an attractive, eco-friendly backyard will not only give you a beautiful house view, but it will also encourage your family to spend more time outside and breathe fresh air.
Equipment like cleaning sprays, paints, varnish, pesticides, grease, solvent removers, and aerosol sprays, on the other hand, may include dangerous compounds that contaminate the outdoor air. As a result, it is critical to avoid using them in enhancing your exterior spaces so that the changes you bring about are done in an environmentally responsible way.
So, here are some unique ideas to green your outdoor spaces effectively and in a sustainable manner.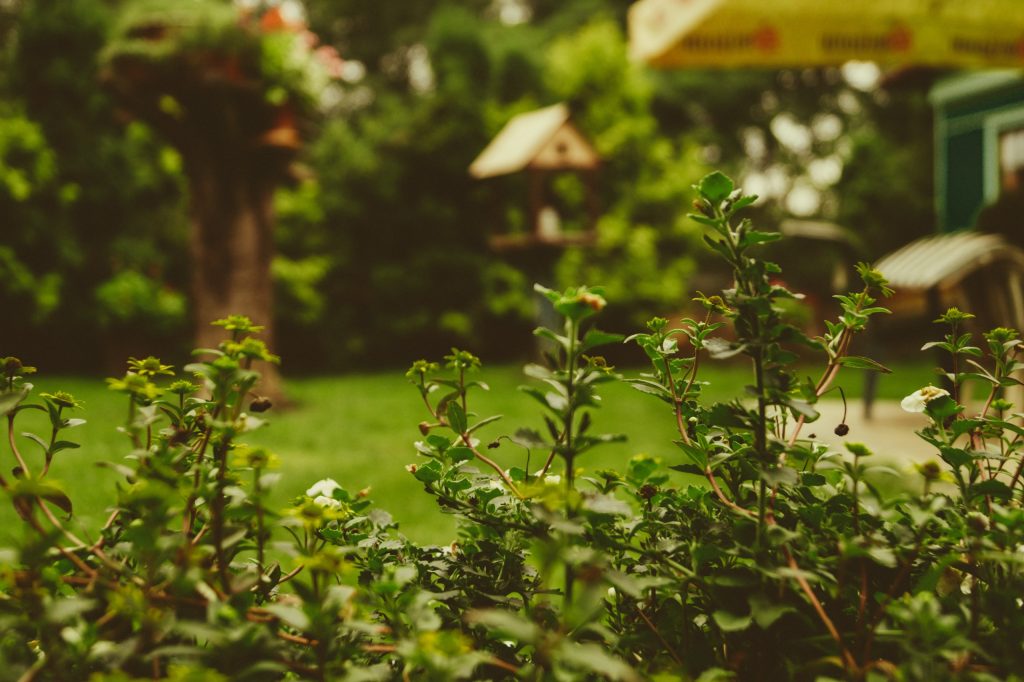 Use eco-friendly tools and materials
When it comes to gardening equipment, there are several eco-friendly solutions available.
Electric lawn mowers and leaf blowers are a wonderful choice because they use significantly less energy and are not powered by gasoline. In fact, the average mower emits 87 pounds of CO2, thus investing in an electric mower may significantly minimize your carbon impact. Push-powered mowers and battery-powered edgers and trimmers are also wonderful eco-friendly options to consider.
This said, be aware that the benefits from using electric equipment for gardening may be limited if electricity in your community is generated in a non-sustainable manner from coal or fossil fuels. Emissions saved when using them in your backyard were actually spent earlier to produce the energy you need to run them. Ideally, energy should be obtained from green resources (hydroelectric, wind power, solar power). If not, you might consider installing solar panels on your roof or turn to other green energy sources that may be subsidized in your community.
For your next exterior deck project, consider using recycled or reclaimed wood from other buildings if you are thinking about adding a wood deck. Many lumber yards have suppliers who offer a wide range of salvaged and recycled wood for your outdoor home projects. Concrete, wrought iron, and even railroad ties are becoming popular outdoor building materials. You'll be astonished at how unique green materials may improve your garden or DIY outdoor home project.
Build a natural oasis
Build a sustainable natural pool in your backyard if you wish to have a swimming pool.
This assumes of course that you have access to an unlimited source of water like a nearby stream or groundwater-fed pond. However, even if you are so lucky, with climate change causing global warming and accelerated changes in weather patterns, water may grow scarce over the years and you should probably plan on having some sort of reserve tank to conserve water.
Natural pools do not need the use of harsh chemicals such as chlorine, making them beneficial for both you and the environment. Additionally, because their regular maintenance expenses are substantially cheaper, they save you time and money.
Natural pools may also be designed to fit in with the rest of your yard's landscaping, allowing you to create a lovely eco-friendly oasis.
Natural soil creation for landscaping
Every season, many homeowners spend a lot at their local nursery or home improvement store on mulch, soil, and other gardening materials.
Instead of buying all of your ground cover and soil, consider creating a composting pile in your garden from food leftovers and remains. This helps to build nutrient-rich soil, keeps landfills clean of food waste, and your plants will grow more plentiful and attractive as a result.
Eco-friendly outdoor furniture is a must
Don't forget about your leisure zones – patio and garden furniture – while greening your outdoor home.
Try getting patio furniture from a garage sale and repainting it to give it a fresh look, or check for Forest Steward Council (FSC) certified wood or recycled plastics. Your outdoor living space should be comfortable and peaceful, but it should also be mindful of the Earth's resources.